*This article may have affiliate links, which means we may receive commissions if you choose to purchase through links we provide (at no extra cost to you). For more details, please read our privacy policy/affiliate disclosure. Thank you for supporting the work we put into this blog!
You would do any­thing for your child. Whether that child is your own flesh and blood, a rel­a­tive or a stu­dent under your care, you would go out of your way to make sure that the child is hap­py, safe and healthy.
How Do I Know There Is a Real Problem?
Anx­i­ety is a nor­mal part of child­hood, and every child goes through phas­es. The dif­fer­ence between a phase and an anx­i­ety dis­or­der is that a phase is tem­po­rary and usu­al­ly harmless.
Chil­dren who suf­fer from an anx­i­ety dis­or­der expe­ri­ence fear, ner­vous­ness, shy­ness, and avoid­ance of places and activ­i­ties that per­sist despite par­ents, care­tak­ers, and teach­ers' help­ful efforts.
To help them, we also should dif­fer­en­ti­ate between two inter­change­able terms. Fear can be defined as a neg­a­tive emo­tion­al state trig­gered by the pres­ence of a stim­u­lus that has the poten­tial to cause imme­di­ate harm, while anx­i­ety can be defined as an emo­tion­al state in which the threat is not imme­di­ate­ly present but is anticipated.
Both of these emo­tions are adap­tive and essen­tial for sur­vival. Fear and anx­i­ety are con­sid­ered dys­func­tion­al when inten­si­ty, dura­tion, and/or fre­quen­cy are not pro­por­tion­al to the elic­it­ing threat and cause inter­fer­ence, dis­abil­i­ties, impair­ment, and/or dis­tress that are judged clin­i­cal­ly excessive.
Anx­i­ety dis­or­ders tend to become chron­ic and inter­fere with how your child func­tions at home or school to the point that your child becomes dis­tressed and uncom­fort­able and starts avoid­ing activ­i­ties or people.
Unlike a tem­po­rary phase of fear, such as see­ing a scary movie and then hav­ing trou­ble falling asleep, reas­sur­ance and com­fort are not enough to help a child with an anx­i­ety dis­or­der get past their fear and anxiety.
What If That Child Suffered From Anxiety?
Yes, chil­dren suf­fer from anx­i­ety, and men­tal health issues such as this among chil­dren are start­ing to become more rec­og­nized and understood.
This means that par­ents, care­givers, and teach­ers now have more resources avail­able to help chil­dren suc­cess­ful­ly deal with anx­i­ety periods.
The term "anx­i­ety dis­or­der," in fact, refers to a group of men­tal ill­ness­es that includes gen­er­al­ized anx­i­ety dis­or­der (

GAD

), obses­sive-com­pul­sive dis­or­der (

OCD

), pan­ic dis­or­der, post­trau­mat­ic stress dis­or­der (

PTSD

), social anx­i­ety dis­or­der (also called social pho­bia), and spe­cif­ic pho­bias. Each anx­i­ety dis­or­der has spe­cif­ic symptoms.
Remem­ber

, it is always impor­tant to seek pro­fes­sion­al help when deal­ing with any health issue, includ­ing a men­tal health issue. Don't take the bur­den upon your­self. Pro­fes­sion­als have the train­ing and expe­ri­ence to best deal with health prob­lems, and they can also help you as an adult to man­age your child's anxiety.
The following strategies can help you to work with a child who is experiencing anxiety.
1- Acknowledgement
The first step to help­ing a child through anx­i­ety is acknowl­edg­ing that anx­i­ety is a gen­uine issue for chil­dren and seri­ous. It's easy for many adults to think that a child's anx­i­ety is just 'a phase they're going through or that their moods are either a nat­ur­al part of being a child or might even be put on for sym­pa­thy or attention.
A com­bi­na­tion of typ­i­cal children's behav­iours can sig­ni­fy anx­i­ety. Experts rec­om­mend that adults accept that chil­dren and teenagers suf­fer from anx­i­ety and that this needs to be acknowl­edged before it can be dealt with.
2- Knowing The Symptoms…
How do you know that your child is suf­fer­ing from anxiety?
Symp­toms of anx­i­ety can be hard­er to spot in chil­dren than in adults, and young chil­dren and teenagers are often less like­ly to talk about their feel­ings. Also, they may be unable to artic­u­late their feel­ings and thoughts. How­ev­er, anx­i­ety could be present in chil­dren who dis­play the fol­low­ing symptoms:
- Defi­ant behaviour
- Stom­ach aches
- Cry­ing
- Tantrums and meltdowns
- Headaches
- Dif­fi­cul­ty sleeping
- Frus­tra­tion
- Being clingy
- Using the toi­let frequently
- Not eat­ing properly
- Ten­sion and fidgeting
- Find­ing it hard to concentrate
- Phys­i­cal symptoms
Pedi­atric anx­i­ety dis­or­ders are par­tic­u­lar­ly like­ly to occur in asso­ci­a­tion with somat­ic com­plaints (i.e., phys­i­cal symp­toms occur­ring in the absence of a ver­i­fied med­ical con­di­tion or symp­toms in excess of what would typ­i­cal­ly be expect­ed for a giv­en med­ical illness).
Somat­ic symp­toms in chil­dren with anx­i­ety dis­or­ders can include com­plaints of chest pain, tachy­car­dia, and short­ness of breath, dizzi­ness, nau­sea, and vom­it­ing. Although symp­toms may vary, one of the most con­sis­tent­ly report­ed and debil­i­tat­ing symp­toms in anx­ious chil­dren is abdom­i­nal pain.
3- Seek Help
The next step in help­ing a child through anx­i­ety is to seek help. It is vital to teach­ing chil­dren to seek help and allow oth­er peo­ple to help them, and it is vital that their care­giv­er also allows them­selves to seek help.
The first port of call is a health pro­fes­sion­al such as a psy­chol­o­gist or psy­chother­a­pist. Still, even a close friend, rel­a­tive or con­fi­dante can be valu­able in the process of help­ing a child over­come their anxiety.
4- Think Long-Term
The solu­tion to the prob­lem of child anx­i­ety may be hard to find. The process may be long, and adults should assume that the jour­ney out of anx­i­ety will take a long time. It may take months or years, and the process may have to revis­it in the future.
Spe­cial­ist advice tells us that peo­ple who suf­fer from anx­i­ety once are more like­ly to suf­fer from anx­i­ety again in the future. This shouldn't tell us to give up on a per­son. It should tell us that chil­dren with anx­i­ety need to be mon­i­tored and assist­ed in the long term.

5- Stay Busy
Par­ents and teach­ers know full well the val­ue of keep­ing chil­dren busy. We know that chil­dren begin to think and wor­ry most at the end of the day when they're no longer engaged in con­struc­tive activ­i­ties or idle.
There­fore, it helps keep the chil­dren par­tic­i­pat­ing in con­struc­tive activ­i­ties, which could be edu­ca­tion­al or pure­ly fun so that they are not left with too much time to think about their situation.
At the same time, it is vital to avoid over­stim­u­lat­ing chil­dren with too many activ­i­ties and giv­ing them time to be bored and let their imag­i­na­tion wander.
Find­ing the bal­ance between activ­i­ty and down­time can be tricky, but using your nat­ur­al intu­ition and your knowl­edge of the chil­dren under your care will enable you to do so.
6- Literature
Many use­ful books, web­sites and resources exist for adults assist­ing chil­dren with anx­i­ety. One such book is Child and Ado­les­cent Psy­chother­a­py, by Peter Blake.
In the book, Blake out­lines the caus­es of men­tal health issues among chil­dren and teenagers and strate­gies for assist­ing chil­dren through these chal­leng­ing times.
He divides the stages into assess­ment and ther­a­py. The assess­ment stage includes the refer­ral and ini­tial inter­view between the child and the health pro­fes­sion­al, the assess­ment of that indi­vid­ual child, devel­op­men­tal con­sid­er­a­tions, an assess­ment for the most appro­pri­ate ther­a­py, and work­ing with the child's parents.
The ther­a­py phase includes con­sid­er­a­tion of phys­i­cal and men­tal set­tings, inter­pre­ta­tion, the role and chal­lenges of play, and spe­cif­ic psy­chother­a­py prin­ci­ples such as trans­fer­ence, coun­ter­trans­fer­ence and termination.
The lat­ter terms are high­ly aca­d­e­m­ic and the­o­ret­i­cal, so par­ents and care­givers don't need a thor­ough under­stand­ing of them but can ben­e­fit from know­ing some of the tech­niques pro­fes­sion­als will use when guid­ing chil­dren through men­tal health challenges.
One of the high­light­ed fea­tures of Blake's book is the role of play and humour. Blake out­lines how ther­a­pists, and thus par­ents and oth­er adults, can be play­ful and humor­ous when work­ing with chil­dren of any age. He sup­ports this notion with many anec­dotes and exam­ples from his clin­i­cal work.
7- Thought-Noticing
A spe­cif­ic ther­a­peu­tic tech­nique is called thought-notic­ing. Thought-notic­ing is the process of know­ing when the mind is just wan­der­ing or day­dream­ing, and when the mind is focused on a person's wor­ries or troubles.
Chil­dren can be taught to notice when they are think­ing neg­a­tive thoughts and let­ting their minds dwell on their troubles.
The tech­nique also shows chil­dren that they are only think­ing about their trou­bles; they are not actu­al­ly expe­ri­enc­ing those troubles.
This is use­ful for remov­ing chil­dren from neg­a­tive thought process­es. Adults can teach chil­dren to 'unhook' from these neg­a­tive thoughts and bring their minds back to the present and back to reality.
The val­ue of thought-notic­ing teach­es chil­dren to tune into their think­ing and dis­tance them­selves from these neg­a­tive thoughts, and men­tal­ly step back and real­ize that it is just one more neg­a­tive thought that will come and go. They don't need to dwell on it.
8- Specific Techniques
To learn thought-notic­ing and oth­er pos­i­tive mind­sets, try some of these tech­niques with your child.
Lay down with your child, get com­fy and lis­ten. Lis­ten to what­ev­er sounds you hear for about 2 min­utes, then com­pare what you each heard. Share how your minds wandered.
9- I am Listening…Tell Me More!
Nor­mal, dai­ly con­ver­sa­tions can also help you con­nect with your child and assess their state of mind. Dur­ing a con­ver­sa­tion, ask ques­tions such as:
Is there any­thing that's both­er­ing you?
What did you do dur­ing recess? Who did you spend time with?
You don't talk about Peter any­more. Is every­thing okay?
What was the most frus­trat­ing part of your day?
10- Give it a Name!
Anoth­er tech­nique that has proved suc­cess­ful is giv­ing the mind a name. Encour­age your child to give their mind a name, just like nam­ing a pet.
Your child might call their mind, "Tom­my." When you sense trou­ble build­ing up or would like to know what your child is feel­ing, you can ask them what Tom­my is thinking.
This way, the child can step back from their thoughts and essen­tial­ly look at them­selves from above.
11- Reflection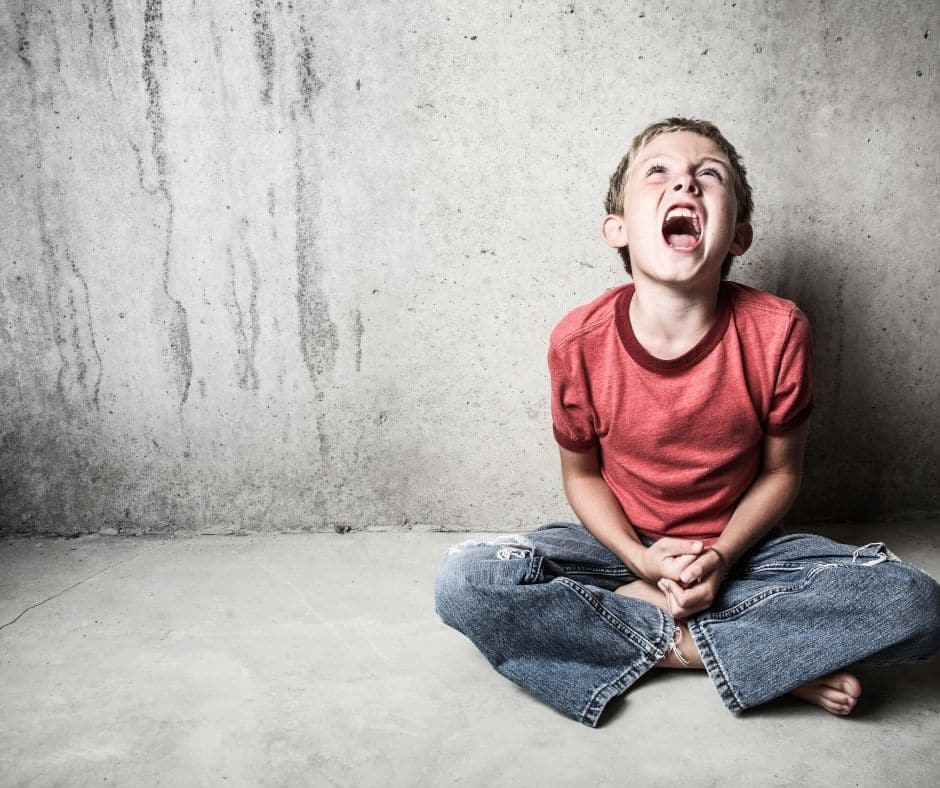 Melt­downs, tantrums, switch­ing off, and intro­ver­sion can all occur for chil­dren with anx­i­ety. Inci­dents will hap­pen, and as unpleas­ant and stress­ful as they are, they can be a chance to get through to your child.
After an inci­dent, reflect on what occurred. Once they have calmed down, ask ques­tions like:
"What did your mind say to make you feel upset?" for younger chil­dren or
"can you tell me what you thought that made you feel so angry, frus­trat­ed, dis­ap­point­ed, etc.?" for old­er kids.
Devel­op­ing these prac­ti­cal skills in chil­dren helps them to reach a point where they can self-regulate.
Also known as metacog­ni­tion, self-reg­u­la­tion helps chil­dren be more suc­cess­ful, more resilient, and bet­ter able to prob­lem-solve because they are less like­ly to get caught up in their worries.
Dr.Eman Sed­ky
has med­ical­ly reviewed the article.
Last but not least
Chil­dren under your care are like­ly to expe­ri­ence anx­i­ety at some point, and you can help. Rec­og­nize that anx­i­ety is a seri­ous issue among chil­dren, and iden­ti­fy com­mon symp­toms before seek­ing pro­fes­sion­al help.
Stay pos­i­tive and real­ize that guid­ing the child through anx­i­ety is long and ready to sup­port the child in the long term.
Con­sult trust­ed con­fi­dantes and expert lit­er­a­ture, then imple­ment strate­gies such as 'nam­ing,' thought notic­ing, play, reflec­tion, pro­vid­ing con­struc­tive activ­i­ties and reg­u­lar conversation.
Apply­ing these tech­niques with pos­i­tiv­i­ty and patience will help you sup­port your child's jour­ney out of anx­i­ety and into a fuller and hap­pi­er life!
Resources:
https://adaa.org/sites/default/files/Anxiety%20Disorders%20in%20Children.pdf
https://adaa.org/living-with-anxiety/children
https://www.scielo.br/scielo.php?script=sci_arttext

&

pid=

S1516-44462013000500003