*This article may have affiliate links, which means we may receive commissions if you choose to purchase through links we provide (at no extra cost to you). For more details, please read our privacy policy/affiliate disclosure. Thank you for supporting the work we put into this blog!
How Do I Pre­pare My Chil­dren For

Divorce

?
There are some con­ver­sa­tions with our kids that are awk­ward and even uncom­fort­able. Some par­ents find it tricky to nav­i­gate, par­tic­u­lar­ly if their par­ents were shy and embar­rassed about it. But if han­dled cor­rect­ly, every­one can come through this chat just fine.
We are talk­ing about divorce

&

separation.
This is not a task any par­ent finds easy to under­take. Talk­ing to a child about your impend­ing sep­a­ra­tion and divorce can be trau­ma­tiz­ing, not only for them but for you, too. But it's your respon­si­bil­i­ty to tell them with­out inflict­ing too much pain and sad­ness, or at least not wors­en­ing it.
It can be done; chil­dren can come out the oth­er end of this seri­ous con­ver­sa­tion feel­ing less trau­ma­tized than we imag­ine. But that depends on you, mom and dad. It all depends on how you approach this when you do it and whether you keep your remarks as age-appro­pri­ate as pos­si­ble. Lit­tle ones are less able to process com­pli­cat­ed com­ments than old­er kids and teens.
In this arti­cle, we offer some con­crete sug­ges­tions for struc­tur­ing this dia­logue. We've con­sult­ed experts – mar­riage coun­sel­lors and child psy­chol­o­gists – and syn­the­sized their research into a step-by-step guide for par­ents. Your child won't sail through this unchanged because the news of impend­ing divorce alters their world pro­found­ly. But you can han­dle it in such a way that their pain is less­ened considerably.
If you're about to sit down with your chil­dren and have this talk, con­sid­er the fol­low­ing ideas for break­ing the news as clear­ly, briefly and con­cise­ly as you pos­si­bly can.
- Plan Ahead Of Time What You Will Say
This is one of those con­ver­sa­tions that must be planned in advance, rather than just wing­ing it. The top­ic is too seri­ous and impor­tant for that. Sit down togeth­er and write an out­line of what you intend to say.
Keep the notes brief, and don't seem as though you're read­ing from a script when the time comes. And no mat­ter what, no mat­ter how much anger or sor­row you may feel in these cir­cum­stances, you've got to tell your chil­dren togeth­er. Doing this presents a unit­ed front, sig­nalling to the child that this is a step you've decid­ed on together.
- Explain Why This Is Happening
Being vague with state­ments like "we just aren't hap­py" may be met with blank stares. Chil­dren don't usu­al­ly grasp unclear com­ments like that. Give them some­thing they can point to – are there con­stant

argu­ments

in the home recent­ly? — and explain that the sep­a­ra­tion will stop all that.
Give them rea­sons for the divorce they can com­pre­hend. If your chil­dren are all of the dif­fer­ent ages – five, 10 and 15, for exam­ple – let your teen stay behind when the younger chil­dren are gone and ask more grown-up ques­tions if they need to. And they prob­a­bly will. You may even want to speak to them sep­a­rate­ly, depend­ing on how old they are.
- Try To Recall How You Felt As a child
There is no bet­ter way to brace chil­dren for bad news than remem­ber­ing how you were giv­en it as a child. If your par­ents sep­a­rat­ed and divorced, remind your­self of how they deliv­ered the news. Did they do it well? Was it more painful than it need­ed to be? Were they clear about the details, like when it would hap­pen? What mat­ters is that you imag­ine how you felt receiv­ing bad news when you were young. Be empa­thet­ic to that inner child, and use that mem­o­ry to guide you.
- Don't Let

Blame

Infuse Your Tone

&

Comments
If the divorce is one spouse's wish but not the oth­er's, it's easy for the lat­ter to let hurt and betray­al seep into their voice. It's nat­ur­al to feel that way, per­haps, but as a par­ent, you must keep those feel­ings private.
Accus­ing your spouse of hav­ing an affair in front of your child, for exam­ple, is poten­tial­ly very dam­ag­ing. Remem­ber: long after the divorce, dust set­tles, and life car­ries on – and it will! — your child has to see and spend time with the oth­er parent.
Blam­ing them for the divorce, even sub­tly, is unhealthy when you do it in front of your chil­dren. Save the rants for anoth­er time, like when you're out with friends lament­ing the mar­riage's collapse.
- Explain The Forthcoming Changes Clearly
Some par­ents try to assure their kids that noth­ing is going to change. Unfor­tu­nate­ly, that's untrue, and claim­ing it may set you up for accu­sa­tions lat­er on.
Explain that the divorce means one of you is mov­ing out. Tell your child where the par­ent who is leav­ing will be liv­ing and when that move is tak­ing place. Give them as many details about upcom­ing changes as you can.
If there is some­thing you don't know yet – your new address, for exam­ple – tell your child that you'll inform them as soon as you know. Say­ing "noth­ing will change" is sim­ply false, and even­tu­al­ly, your child may feel lied to if you say it in a mis­guid­ed attempt to reas­sure them.
- Don't Talk About Third Parties Yet
Announc­ing a divorce is big, dif­fi­cult news for chil­dren to absorb. Even if a third par­ty is involved in this deci­sion, now is not the time to explain that to your chil­dren. They may sus­pect it if they've over­heard grown-up con­ver­sa­tions around the issue behind closed doors. But leave this ele­ment of your deci­sion out for the moment. Kids can only han­dle so much bad news in one sit­ting. There is plen­ty of time, lat­er on, to intro­duce a new per­son into their lives.
- Ask Them If They Have Questions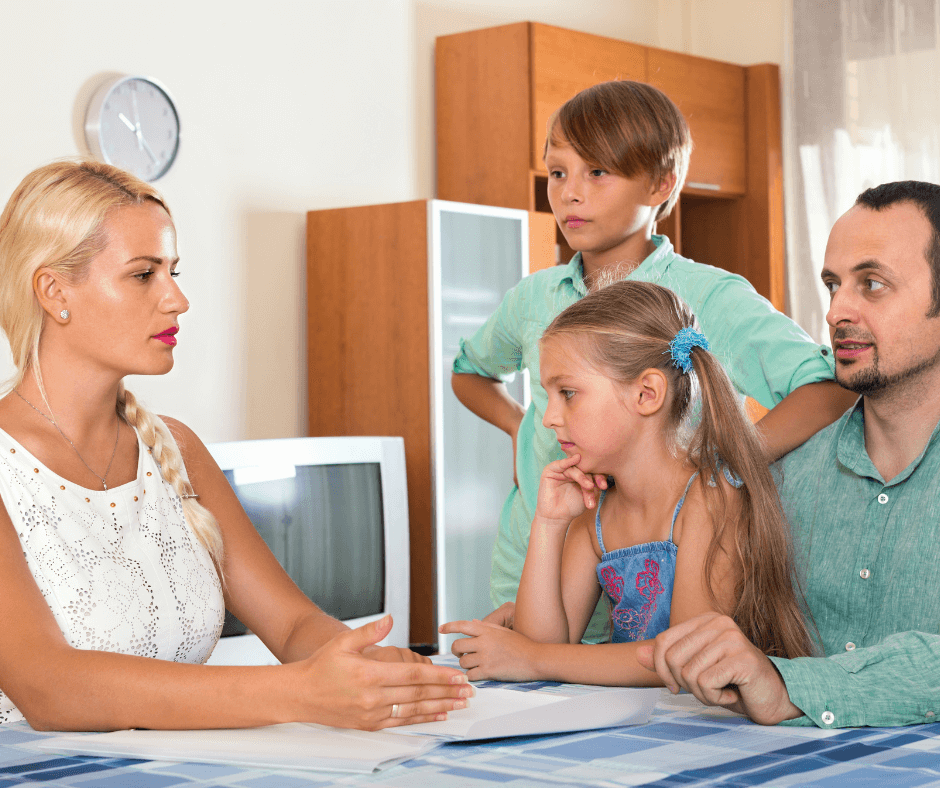 Most chil­dren sim­ply want reas­sur­ance that their par­ents still love them, but if they do want to ask you some­thing, by all means, let them. They may ask how often they will see the depart­ing par­ent, or whether the fam­i­ly pet is mov­ing out, too.
Chil­dren come up with ques­tions and con­cerns that may seem odd to adults, but these queries allow them to han­dle their new fam­i­ly struc­ture bet­ter. Don't dis­cour­age them.
- Give Them Time To Process Their Feelings
Chil­dren react in unpre­dictable ways when their par­ents announce their inten­tion to divorce. Teens may act like they aren't upset, say­ing some­thing like "I saw it com­ing," when deep down they are roil­ing with anger and sadness.
Small chil­dren may not even under­stand what's hap­pen­ing until one spouse moves and they go to a new place for a week­end vis­it. There is, unfor­tu­nate­ly, no guar­an­tee of how your child will react and how long it will take for them to process the news and come to terms with it.
Most experts agree that it is only when they see their par­ents hap­pi­er apart than togeth­er that chil­dren begin to relax and accept the new sit­u­a­tion. And of course, once they real­ize that their par­ents' love for them has not changed or gone away, they begin to under­stand they were not to blame. If they are furi­ous at first, let them express their anger.
After all, the home and cir­cum­stances they've relied on their whole lives have just been uproot­ed and altered. Divorces are some­times nec­es­sary for the health and over­all well-being of a fam­i­ly. But that does­n't mean every­one adjusts to it at the same pace or in the same man­ner. Let them become accus­tomed to this pro­found shift in their own time.
Final Thoughts
Divorce is no longer uncom­mon, and par­ents who choose this path are no longer judged harsh­ly for choos­ing it. Con­se­quent­ly, your child may well have friends whose par­ents are divorced, and they will find reas­sur­ance and solace there.
But for some kids, divorce feels like the world is falling down around them. It is every par­en­t's respon­si­bil­i­ty to ensure them it isn't.
Chil­dren will even­tu­al­ly adapt to the divorce if they feel loved and sup­port­ed. And as long as you, the par­ents, lis­ten to their feel­ings and help them through the changes, they will cope and come out the oth­er side healthy and happy.
If for any rea­son you feel they are strug­gling months after you announce your plans to divorce, con­sid­er seek­ing pro­fes­sion­al help for your child. A ther­a­pist can be an objec­tive sound­ing board who allows your child to express feel­ings they may be reluc­tant to share with you.
Soon­er or lat­er, the whole fam­i­ly will adapt. As long as love is at the cen­tre of your fam­i­ly struc­ture, your chil­dren will come to accept and even thrive in the new cir­cum­stances, no mat­ter what form those cir­cum­stances take.