*This article may have affiliate links, which means we may receive commissions if you choose to purchase through links we provide (at no extra cost to you). For more details, please read our privacy policy/affiliate disclosure. Thank you for supporting the work we put into this blog!
Can You Apply Too Much Preen? — Weed Con­trol Facts
March 21st is the first day of spring on the cal­en­dar, but ded­i­cat­ed gar­den­ers turn their thoughts to dig­ging and plant­i­ng long before the first warm breeze hits their area.
Some are already start­ing seeds for new plants and veg­gies in indoor trays, count­ing down the weeks until the soil is just the right tem­per­a­ture for new shoots. No mat­ter what zone you live in – gar­den­ing lin­go for loca­tion – the onset of spring is a day worth celebrating.
March 21st her­alds warmer tem­per­a­tures just about every­where, and noth­ing says "spring" more thor­ough­ly than a pack­et of new seeds pur­chased at your favourite nurs­ery. Yes, indeed, the time is almost here for prepar­ing gar­den beds for exist­ing and new plants of every vari­ety. Unfor­tu­nate­ly, that also means deal­ing with every gar­den­er's neme­sis – the pro­lif­er­a­tion of weeds.
Weeds are the bane of every gar­den­er's exis­tence. They are unsight­ly and seem to spread quick­ly and take over beds that are home to beau­ti­ful blooms and fab­u­lous veggies.
Ded­i­cat­ed gar­den­ers can find them­selves bent over beds three or four times a week, yank­ing and pulling up roots to try to get ahead of weeds. It's an ardu­ous task that can seem end­less, par­tic­u­lar­ly when sum­mer is in full swing and your plants are lush and bountiful.
How should you deal with these unwant­ed invaders? An excel­lent prod­uct that is every gar­den­er's best friend is Preen, an all-nat­ur­al her­bi­cide that stops weeds before they grow.
In this arti­cle, we offer tips on using Preen in your gar­den and explain how to make sure that you don't over­do it. Although Preen is made sole­ly from nat­ur­al ingre­di­ents, mean­ing it's not tox­ic or dan­ger­ous, there are steps you should fol­low to make sure it is at its most effec­tive and that kids and pets don't track it into the house.
What is Preen?
Accord­ing to com­pa­ny lit­er­a­ture, Preen isn't a weed killer; it's a weed "pre­ven­ter." It stops weeds from grow­ing before they have a chance to spread through ger­mi­na­tion. It is made of corn gluten and is safe for pets and chil­dren. There is one caveat, how­ev­er: once you've sprin­kled Preen on the soil or mulch and damp­ened it to cre­ate a weed bar­ri­er, keep every­one out of the gar­den until it dries.
That means keep­ing your dog and cat (and chil­dren, if they like dig­ging!) inside until the beds are no longer moist, usu­al­ly in about 30 min­utes. Oth­er­wise, paws may cause break­age in the new bar­ri­er, allow­ing weeds to poke through and grow. And those same paws might drag bits of Preen (and dirt) into the house and onto your fresh­ly cleaned floors and car­pets. No one wants that, espe­cial­ly after a few days of spring clean­ing!
Preen Products To Choose From:
The com­pa­ny has three dif­fer­ent weed pre­ven­tion prod­ucts, each designed for a slight­ly dif­fer­ent type of land­scape. Here is a brief overview of each to help you deter­mine which is right for your gar­den­ing needs.
1- Preen Extended Control Weed Preventer
The advan­tage of this prod­uct is its dura­bil­i­ty – it lasts as long as six months. It's designed for use in peren­ni­al flower gar­dens con­tain­ing as many as 600 plants. It's also safe to use around trees, shrubs, ground­cov­ers, and even rock gardens.
2- Preen Garden Weed Preventer
This prod­uct works for up to three months. It can be used for around 200 estab­lished plants, includ­ing flow­ers, veg­eta­bles, trees and shrubs.
3- Preen Lawn Weed Control
This prod­uct is made specif­i­cal­ly for lawns. It pre­vents more than 200 broad-leaf lawn weeds, includ­ing chick­weed and knotweed.
How Do You Use Preen?
Preen is extreme­ly easy to dis­trib­ute. You sprin­kle it around the pre­pared, dry beds, close to but not on top of the stems and leaves of exist­ing plants. Next, you water the area until it's damp. You can use Preen around flow­ers, shrubs, trees, herbs and veg­etable plants of all kinds.
Once Preen is spread even­ly around the gar­den, you can say farewell to weeds for about three months. No more back­break­ing labour for almost the whole sum­mer season!
You

should­n't

use Preen around aquat­ic gar­dens con­tain­ing water­falls, ponds and foun­tains with koi, frogs or oth­er aquat­ic life.
Although you can use Preen at any time of year, it's most effec­tive if you spread it in ear­ly spring, when new or exist­ing plants are about two inch­es tall. You'll only need to repair the weed bar­ri­er Preen cre­ates if Fluffy or Fido digs into the gar­den and dis­rupts it. A quick patch job with a lit­tle sprin­kle of Preen, and voila!
The weed bar­ri­er is as good as new.
The Company Suggests Following These Four Steps
- First, Remove Any Existing Weeds In Your Garden
Remem­ber, Preen is not made to kill weeds that have already sprout­ed. It's made to stop weeds before they have a chance to ger­mi­nate and spread. Exist­ing weeds must be pulled the old-fash­ioned way!
- Sprinkle
Shake the con­tain­er of Preen around the gar­den, using only the pre­scribed amount in every area.
- Integrate
Mix the Preen into the soil or mulch using a rake or sim­i­lar gar­den tool.
- Water The Garden
Unless rain is immi­nent, water the gar­den once the Preen is thor­ough­ly dis­trib­uted through­out the soil or mulch. Soak it just enough that it will dry in about 30 minutes.
Can You Use Too Much Preen?
The answer is: No. Preen is all-nat­ur­al and non-tox­ic; it's not the end of the world if you sprin­kle a lit­tle too much on the gar­den. How­ev­er, keep in mind that wast­ing any prod­uct, even if it's not harm­ful to chil­dren and pets, isn't wise. It's a waste of mon­ey and effort!
Even though it's not going to dam­age the soil if you scat­ter a lit­tle more than the rec­om­mend­ed amount, doing so too often can over­whelm foliage, roots and flow­ers. Don't use Preen more fre­quent­ly than the com­pa­ny recommends.
Read the instruc­tions care­ful­ly, and you won't go wrong. The instruc­tions on each con­tain­er explain how much Preen to use per square footage, so fol­low the guide­lines, and the weeds will be a dis­tant mem­o­ry. One more caveat: Preen does­n't kill weeds that have already sprouted.
You'll have to pull those when you're prepar­ing the beds. But once your gar­den is ready, spread Preen and watch plants, flow­ers, herbs, and veg­eta­bles thrive weed-free!
Why Should You Choose Preen Over Other Herbicides?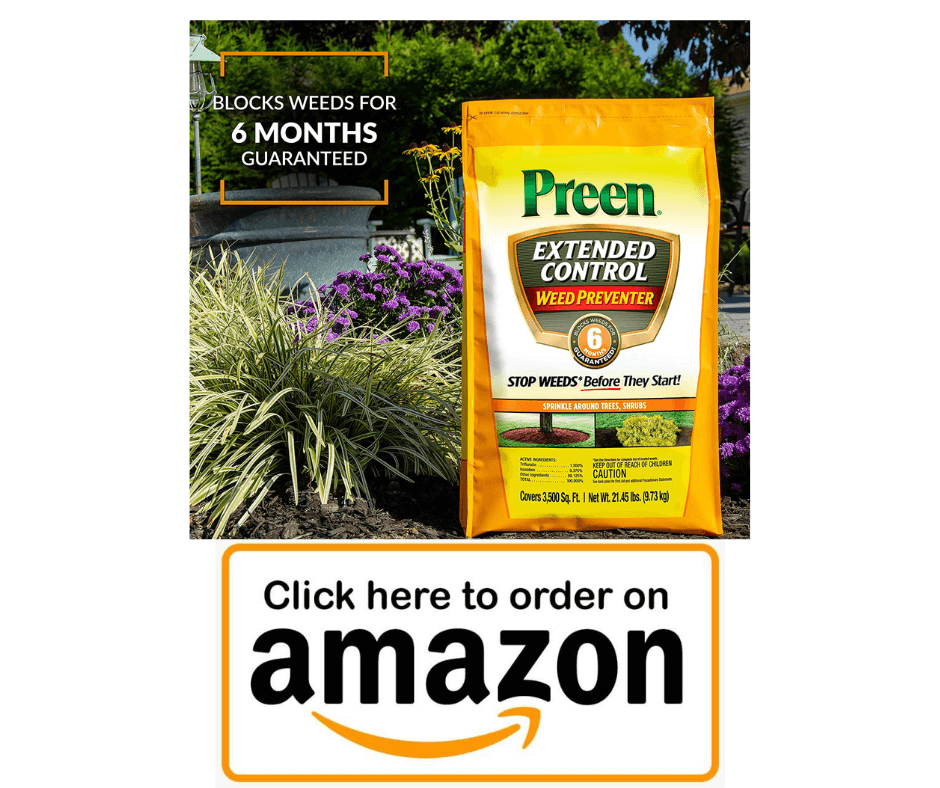 Get­ting rid of weeds is a con­stant chal­lenge fac­ing all gar­den­ers. Just when you think you've pulled every last one, a crop of unsight­ly weeds pops up the fol­low­ing day amidst your beau­ti­ful orna­men­tal blooms or stalks of snow peas!
The beau­ty of Preen is that once you've pre­pared your gar­den and sprin­kled it over the mulch or soil, that's it for sev­er­al months. Preen does­n't kill exist­ing weeds – that's impor­tant to remem­ber. But when you've cleared those out of your gar­den and rid the soil of as many weeds as you pos­si­bly can by yank­ing them out by the roots, the gar­den is ready for Preen.
It is clas­si­fied as a "pre-emer­gent her­bi­cide," which means it kills the weeds' seeds in their tracks. They can't ger­mi­nate and, there­fore, can't spread. Your veg­eta­bles don't get crowd­ed out by unsight­ly weeds. Ugly, wispy weeds don't over­shad­ow your blooms. Depend­ing on which Preen prod­uct you use, you'll get as much as six months free from pulling weeds in your garden.
In Summary
Spring is the sea­son of end­less pos­si­bil­i­ties, renew­al, growth, and change in our land­scapes. There may be noth­ing bet­ter – or more reward­ing – than dig­ging deep in the soil to get it ready for the fruits and veg­eta­bles, and flow­ers that will soon offer beau­ty through­out the grow­ing sea­son. Whether you plant food for fam­i­ly din­ners like car­rots, peas and pota­toes, or you pre­fer the pret­ty blooms of orna­men­tal flow­ers, get­ting the gar­den in prime con­di­tion is cru­cial come spring.
Using Preen can help make your gar­den not only beau­ti­ful but more pro­duc­tive. When weeds aren't tak­ing up space, there is more room for the boun­ty of veg­eta­bles and the visu­al appeal of flowers.
Sprin­kling Preen on your soil or mulch in ear­ly spring is the most effec­tive way to block weeds from mul­ti­ply­ing and tak­ing up pre­cious space. Weeds look ter­ri­ble and have the capac­i­ty to choke the roots of flow­ers, trees, shrubs and oth­er plants you've worked hard to cul­ti­vate. And once the ground has the bar­ri­er Preen cre­ates, you can look for­ward to three months (or more!) of no weeds.
Be sure you use Preen accord­ing to the con­tain­er's direc­tions so you don't waste the prod­uct by putting too much in the gar­den or using it too often. Keep the kids and pets away while it dries, and in no time, you can sit back, relax, and enjoy the visu­al appeal and boun­ty of your gor­geous garden!
Preen FAQs Video