*This article may have affiliate links, which means we may receive commissions if you choose to purchase through links we provide (at no extra cost to you). For more details, please read our privacy policy/affiliate disclosure. Thank you for supporting the work we put into this blog!
Are you launch­ing a new busi­ness but won­der­ing how you can stretch your bud­get to get more accom­plished? Do you need work done but don't need a new, full-time employ­ee? Have you got a "just once" task that's cru­cial but does­n't mer­it a per­ma­nent hire?
We get it!
Some­times new busi­ness­es – and even estab­lished ones – have to oper­ate on a shoe­string because of exter­nal fac­tors or eco­nom­ic pres­sures that are beyond your con­trol. If the last 18 months have taught busi­ness peo­ple any­thing, it is that some­times, the most unpre­dictable, sur­pris­ing, once-in-a-cen­tu­ry things hap­pen (hel­lo,

COVID

!) that no amount of expe­ri­ence and plan­ning can pre­pare you for.
Yet you need work done. But you can't hire new staff mem­bers even though you need experts in par­tic­u­lar fields.
Welcome To Fiverr
If you don't know Fiverr and you're in busi­ness, it's high time you got acquaint­ed with this incred­i­ble online mar­ket­place. It's filled with free­lancers who've got exper­tise in every­thing from data entry to word pro­cess­ing to tax forms to writ­ing, edit­ing and graph­ic design.
Inter­est­ed yet? We thought you might be!
Fiverr was start­ed in 2010, and ever since then has been prov­ing its val­ue to busi­ness­es across the globe.
Here are some of the ways you should use Fiverr to boost your busi­ness and why doing so makes such great eco­nom­ic sense.
1- Jobs Begin As Low As Five Dollars
This is less com­mon than when Fiverr launched, but you can still get amaz­ing deals on the work you need to do. Let's say, for exam­ple; you need a doc­u­ment done in a par­tic­u­lar word pro­cess­ing for­mat; Fiverr will undoubt­ed­ly have an expe­ri­enced free­lancer avail­able to do the task at a rea­son­able price.
2- Whether You're a Buyer or a Seller (employer or employee) jobs, or Gigs, in Fiverr parlance, Are Plentiful.
Some free­lancers make thou­sands of dol­lars every month work­ing from home in fields like graph­ic design. As the buy­er or employ­er, you can nego­ti­ate with the indi­vid­ual whom you think is right for the job and decide on a price you think is fair to both of you.
3- You Get Access To a Global Marketplace
In the "old days," your pool of tal­ent was restrict­ed by your loca­tion, or at the very least by the city, state or province where your office was. Few employ­ers want­ed to hire peo­ple from far away, as it meant incur­ring mov­ing expens­es and oth­er costs to bring a new staff mem­ber into headquarters.
With Fiverr, you get access to tal­ent that might be down the street, but it may also be 10,000 miles away in a dif­fer­ent coun­try! Geog­ra­phy no longer mat­ters because you buy and sell gigs as if the indi­vid­ual were right next door.
4- Fiverr Has Specialty Services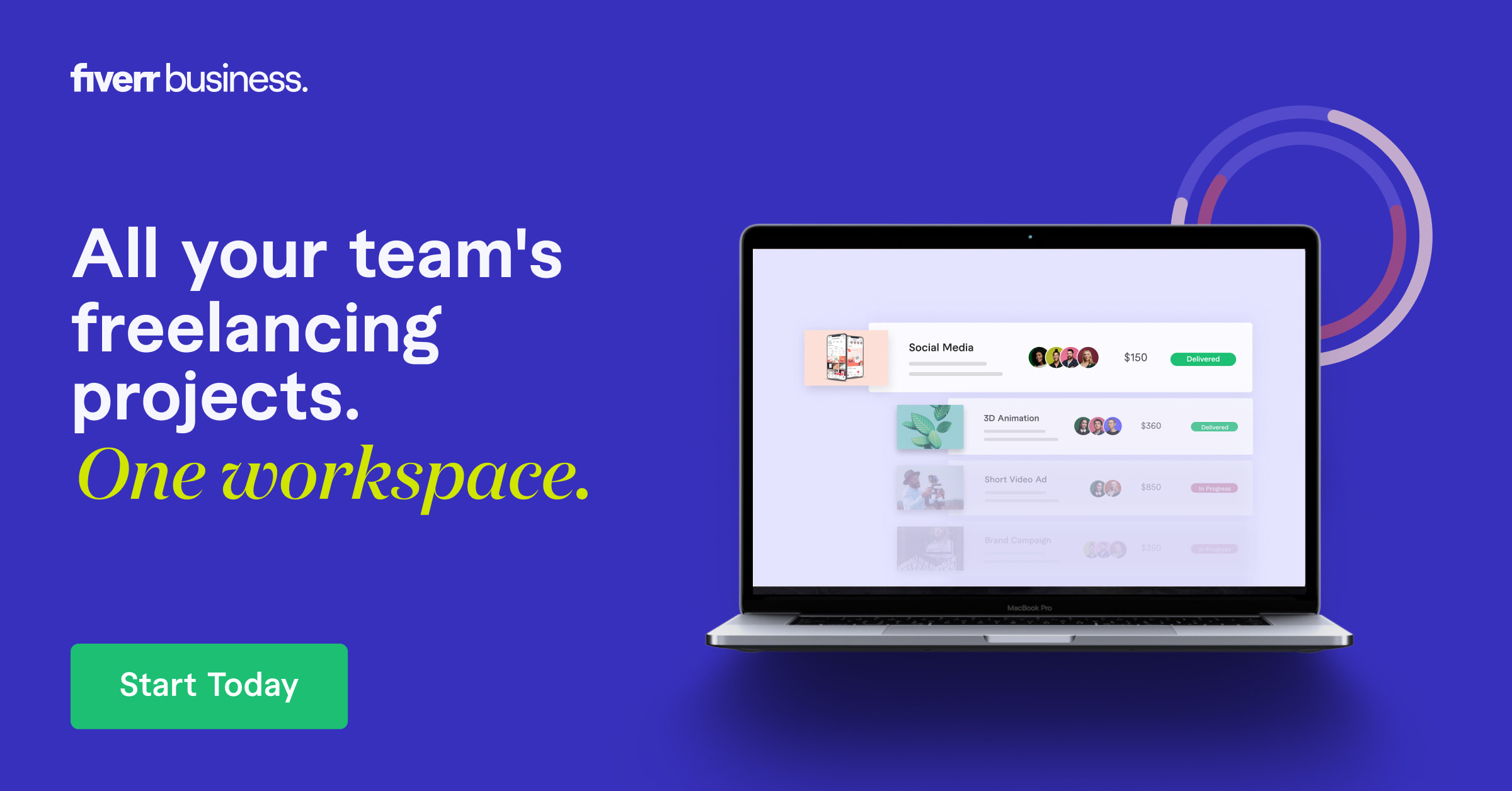 For exam­ple, if you're anx­ious to hire some­one with demon­stra­ble exper­tise and expe­ri­ence in a par­tic­u­lar field, check out Fiverr Pro. On this part of the site, you can be sure of the top-notch qual­i­ty of work­ers because Fiverr staff have checked them out thoroughly.
Fiverr also owns And Co, a one-stop-shop­ping kind of busi­ness man­age­ment tool that man­ages expens­es and tracks time spent on gigs. It's free to every­one; you need no be a mem­ber to access these help­ful tools. At one time, you would have had to pay to get these by sign­ing on for a mem­ber­ship, but no more – both of these are now free.
5- It's An Easy Platform To Navigate
The wis­est way to make the most of using Fiverr is to go on to it with a defined strat­e­gy. You need a vision of suc­cess for your com­pa­ny and then use Fiverr to help you achieve that success.
You should also have an idea of what fail­ure could look like, par­tic­u­lar­ly if you're launch­ing a new ven­ture. That lets you decide just what kind of work you need to be done and the kind of free­lancers you need to hire.
6- Fiverr Allows You To Delegate Tasks
Let's say your busi­ness is thriv­ing, but since the pan­dem­ic hit, you've real­ized that your online pro­file – on social media like Face­book and Insta­gram – is sore­ly lack­ing.
And you need that pro­file to be big and stand out from your com­peti­tors if online sales are to increase.
On Fiverr, you can hire a dig­i­tal edi­tor who can boost your pro­file, earn your com­pa­ny a whole lot of "likes" on var­i­ous plat­forms, and get busi­ness rolling. And you get these ben­e­fits with­out hav­ing to gain exper­tise in this field yourself!
Think of your­self, the com­pa­ny leader, as the one with the holis­tic vision for your com­pa­ny and brand. Then think of those you select to hire on Fiverr as the ones who will help you exe­cute that vision.
7- You Can Let Go Of Boring And Time-Consuming Tasks
Cer­tain tasks need com­plet­ing in any busi­ness, that is – let's be hon­est – dull and take way too much time for most of your full-time employ­ees to handle.
Their exper­tise is need­ed else­where; you did­n't hire them to spend hours inputting charts and oth­er data for a sales presentation.
Hir­ing some­one on Fiverr is the smart way to get these kinds of tasks com­plet­ed on a bud­get. And once you see how skilled the free­lancer is, you'll go back to them, again and again, to get these dull but vital chores com­plet­ed. They get work, and you get qual­i­ty – it's a win-win for both parties.
8- As An Employer, You're Helping To Fund The Global Economy
Some have crit­i­cized Fiverr and oth­er free­lance mar­ket­places for tak­ing away jobs from a coun­try's economy.
These naysay­ers believe an employ­er should hire local­ly, the same way they think folks should eat local­ly grown foods to cut down on car­bon emis­sions when food is import­ed from oth­er coun­tries. But that's only one side of the story.
Looked at anoth­er way, you are help­ing to sup­port work­ers world­wide, which fuels the glob­al econ­o­my. And the more your busi­ness thrives, the more suc­cess Fiverr helps you attain, the more you'll spend liv­ing in your com­mu­ni­ty by pay­ing peo­ple who work in indus­tries like hos­pi­tal­i­ty, retail, and oth­ers. This argu­ment def­i­nite­ly has two sides!
What Should You Use Fiverr To Do?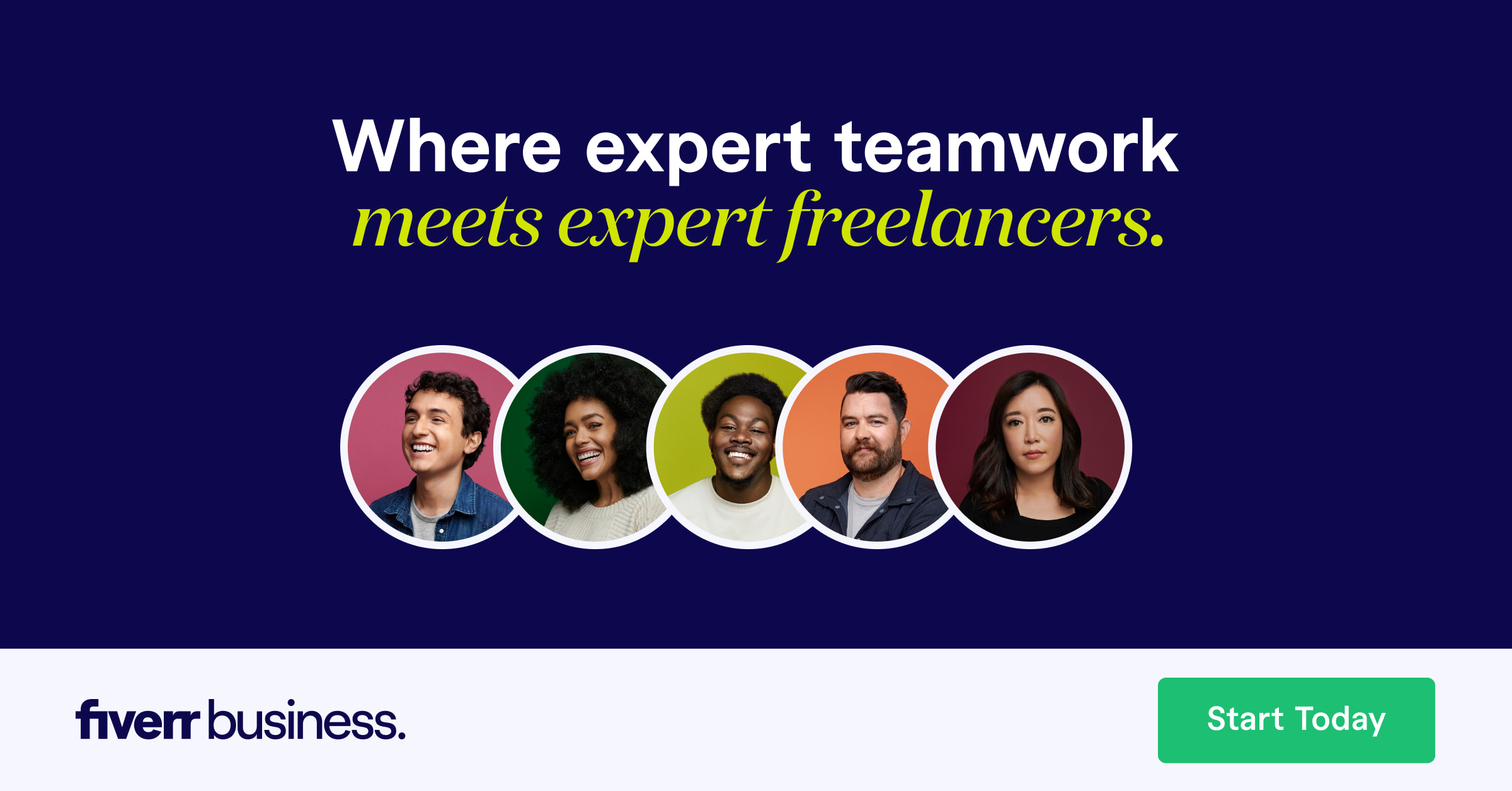 Here are some areas in which hir­ing on Fiverr makes the most sense: graph­ic design, logo design; dig­i­tal mar­ket­ing and the estab­lish­ment of social media accounts for your com­pa­ny; word pro­cess­ing; data input; writ­ing and edit­ing, and video pro­duc­tion and edit­ing tasks.
Some of these gigs will be "just once" kinds of work, while oth­ers may devel­op into ongo­ing tasks. For exam­ple, let's say you hire a free­lancer to under­take writ­ing your Face­book con­tent and upload­ing pictures.
Because it's impor­tant to stay cur­rent, you might want to keep this indi­vid­ual on retain­er, so to speak, and have them attend to the work on a once-a-month basis. Oth­er gigs might be annu­al, like tax prepa­ra­tion. But once you find some­one whose work you feel is first-rate, keep­ing them on board on an occa­sion­al basis is a smart move.
Should You Ever Not Use Fiverr?
There are a few caveats to keep in mind with any free­lancers' plat­form, not just Fiverr.
Be care­ful hir­ing some­one to write a pro­fes­sion­al doc­u­ment whose Eng­lish gram­mar and spelling are not excel­lent, no mat­ter how inex­pen­sive the fee is.
If some­one offers to write 3,000 words for you for just five dol­lars, chances are the work will need revi­sion and edit­ing. In a case like that, it's worth pay­ing for exper­tise from a native Eng­lish speaker.
Anoth­er sit­u­a­tion to avoid is when you need the work done today, right now, imme­di­ate­ly! Once you've giv­en a free­lancer the gig, it's out of your hands. Please give them a rea­son­able dead­line, or have some­one in your office do the work themselves.
Final Thoughts
Fiverr is a ter­rif­ic way to out­source work at a rea­son­able price. Nat­u­ral­ly, not every expe­ri­ence peo­ple have had using the plat­form has been per­fect, as is the case in lots of pro­fes­sion­al environments.
But if you use Fiverr wise­ly, if you're care­ful about who you hire and the gigs you del­e­gate, Fiverr is a won­der­ful way to give work to those who need it, get a pro­fes­sion­al prod­uct in return, and keep costs in line at your company.
It can offer a win-win out­come to every­one, the employ­er and the free­lancer. Please take a few min­utes to go on Fiverr, peruse the site, and become famil­iar with every­thing it offers. You'll be impressed, just like we were!