*This article may have affiliate links, which means we may receive commissions if you choose to purchase through links we provide (at no extra cost to you). For more details, please read our privacy policy/affiliate disclosure. Thank you for supporting the work we put into this blog!
Best Eye­shad­ow Palettes For Redheads
If you're one of those lucky women who was born with a head of beau­ti­ful red hair, you are no doubt used to get­ting lots of com­pli­ments on it. Whether your tress­es are long and curly like Jes­si­ca Chas­tain's or straight and strik­ing like Julianne Moore's, your red hair has like­ly been a stand­out trait that every­one has been com­ment­ing on for most of your life.
Some women are born with lus­cious red locks, while oth­ers choose to get a red tint at their hair styl­ists. No mat­ter how you came to your red hair, no doubt you love it because it's part of what makes you a unique indi­vid­ual. But know­ing what eye make­up colours to wear that work per­fect­ly with your gin­ger mane can be tricky. This is par­tic­u­lar­ly true if your skin is pale, as it so often is with redheads.
How to choose colours that make you look your best, rather than over­tired or even a lit­tle ghoul­ish? Where can you learn what colours look best with your hair and skin tone? Even cos­met­ic counter staff are some­times flum­moxed by what looks good and what looks just plain wrong when it comes to redheads.
Fear not! In this arti­cle, we pour over all the colours in eye shad­ow palettes that are right for red­heads. Whether your tress­es are the shade of a bright cop­per pen­ny or the deep auburn of a mahogany antique, we've got you covered.
We offer com­bos, colour pair­ings and solo shades made to bring out the best in your hair colour, skin tone and facial fea­tures. And don't for­get that your eye colour affects what make­up you should choose!
We offer ideas here for basic eye make­up to wear at the office, as well as sug­ges­tions for how to look your most glam­orous for a night on the town. We've done the research and scoured the inter­net to dis­cov­er what the pros rec­om­mend you wear on a vari­ety of occa­sions. Con­tin­ue read­ing to learn how to choose eye make­up that makes the most of your red tress­es or how to shop for cos­met­ics for that spe­cial red­head in your life.
If You're a Redhead With Blue Eyes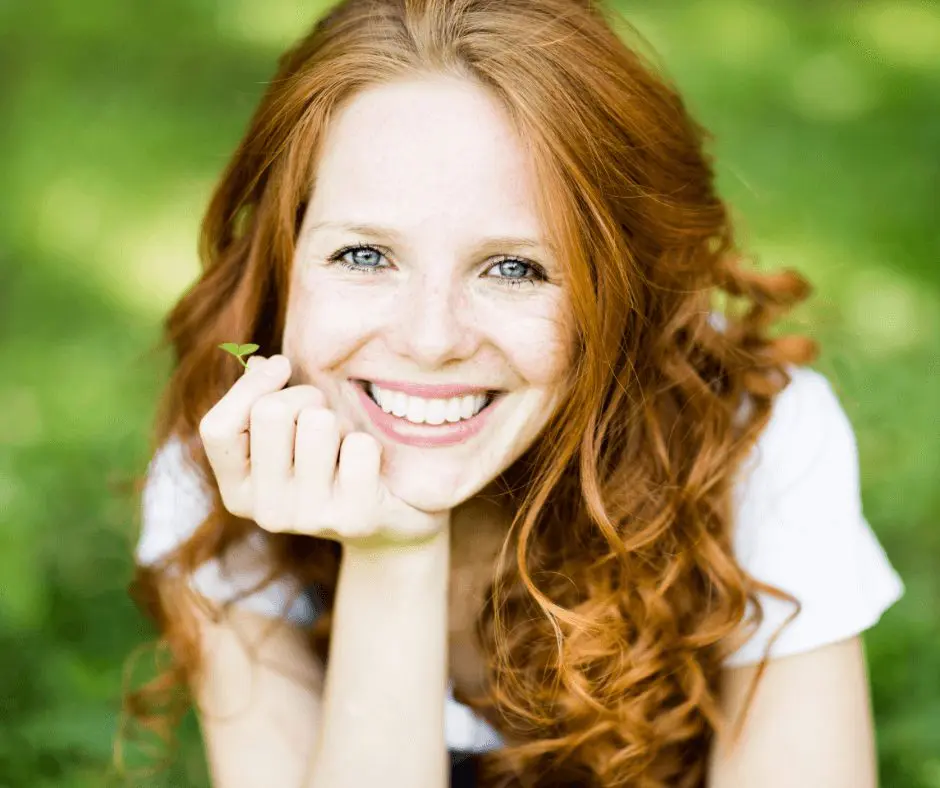 Did you know that hav­ing red hair and blue eyes is con­sid­ered one of the rarest colour com­bos of all pair­ings? It is! So if you are lucky enough to have this duo, be sure you make the most of it by wear­ing the right eye make­up palette. Red­heads with blue eyes should lean toward

warm colours, includ­ing bronzes, browns in a vari­ety of shades, gold, cer­tain shades of green, and even orange

. Orange hues can offer a dra­mat­ic look for an evening out, though you might want to use qui­eter colours for your pro­fes­sion­al look.
If You're a Redhead With Brown Or Hazel Eyes
Pinks and soft pur­ples enhance any green tones in hazel eyes. Brown and bronze hues work well, too, as do gold shades. If your eyes are brown, you can use

a vari­ety of eye shad­ows, even sil­ver and even blue. But to achieve a warm look, stick with gold, bronze and cop­per tones

.
If You're a Redhead With Green Eyes
These lucky women can wear

a vari­ety of nudes and soft pinks and ros­es, but they can also go big and wear vivid pur­ples. The bold hues work on red­heads with green eyes

.
If You're a Redhead With Blue-Grey Eyes
This is a colour com­bo that wears

sil­vers and blues very well, par­tic­u­lar­ly if you want a dra­mat­ic look for an evening out, like a fan­cy par­ty

.
Our research revealed that no mat­ter what colour your eyes are, exper­i­ment­ing with all kinds of shades and get­ting advice from make­up pro­fes­sion­als is the right strat­e­gy for dis­cov­er­ing exact­ly what eye make­up palettes work best for you. Much depends, as we men­tioned, on pre­cise­ly what shade of red your hair is, eye colour and skin tone. How­ev­er, we learned that vir­tu­al­ly all red­heads, no mat­ter their hair's hue, look great in neu­trals, blush tones and nude eye shad­ows. But those aren't your only choic­es. And one more thing: once you've decid­ed what eye shad­ow colours you love and think look great, don't stop there. The right shade of mas­cara, brow pen­cil and lip­stick all con­tribute to pulling your look togeth­er and mak­ing the most of your gleam­ing red tresses!
Here are some of the most pop­u­lar eye make­up prod­ucts for red­heads on the mar­ket today. All are avail­able either in phar­ma­cies, at depart­ment stores, or on Amazon.
1- Urban Decay Naked Mini Eye Shadow Palette
This com­pact of six pow­der eye shad­ows comes in hues rang­ing from nude to deep­er brown shades. They can work togeth­er or alone, depend­ing on the look you're going for. The com­pact is designed to trav­el eas­i­ly, either in your make­up bag while head­ing to the office or in your car­ry-on lug­gage dur­ing vaca­tion. It's small and takes up very lit­tle room no mat­ter where you keep it. Avail­able on Ama­zon.
2-

NYX

Professional Makeup Ultimate Shadow Palette
The fin­ish­es of these shad­ows range from mat­te to glossy, which means you've got the right look for almost every occa­sion. The 16 shades range from dark brown to peach to nude, so you can com­bine two or even three to get a cus­tomized look. This com­pact col­lec­tion gets high praise from cus­tomers and is avail­able on Ama­zon.
3- Erinde 10 Colours Eye Shadow Makeup Palette
Shades with names like "milk tea" say it all about this 10-shad­ow vari­ety pack. There are pinks, browns, and rose shades too, mak­ing for a one-stop make­up shop for many of your shad­ow palette needs. You can mix and match or use just a stroke of one colour on your lids for a sub­tle look. In addi­tion to being cru­el­ty-free (as most cos­met­ics are today) this prod­uct boasts an envi­ron­men­tal­ly friend­ly label – it uses less pack­ag­ing than some oth­er make­up lines. The com­pa­ny says it is com­mit­ted to help­ing the plan­et by reduc­ing waste. Avail­able on Ama­zon.
4- Focallure 2 Piece Cream Eye Shadow Stick
This prod­uct comes in a whole host of two-stick colour com­bi­na­tions, such as pink and red, taupe and brown, grey and ivory – more than 15 com­bo sticks in all. The creamy tex­ture goes on with an easy swipe, and because it's water­proof, it lasts for hours, even a full work­day. Avail­able on Ama­zon, it's smart to stock up on a few of these com­bi­na­tion sticks, so no mat­ter what's on your sched­ule, you've got the right eye shad­ow shades to match.
As we said ear­li­er, choos­ing the right eye shad­ow is impor­tant, but oth­er cos­met­ics are impor­tant too, includ­ing your brow pen­cil, mas­cara and lip­stick. Here's a quick roundup of four prod­ucts that work well on almost every red­head, day or night. Your brows help to frame your face; mas­cara helps your eyes pop, and your lip­stick is the top­per that com­pletes your look.
- Eye Embrace The Ginger Eyebrow Pencil Classic
This water­proof prod­uct comes with its own sharp­en­er in a red/brown tone that's per­fect for most red­heads. Whether you pre­fer a sub­tle swipe to fill in small gaps in your brows or you love a dra­mat­ic arch, this pen­cil does the trick. Avail­able on Ama­zon.
Accord­ing to many make­up pros, red­heads can wear an array of lip­stick shades and look fab­u­lous, includ­ing pop­py, nude, bright pink and rose. Here are two prod­ucts that are pop­u­lar choic­es on Ama­zon and a hit with users.
- Clinique Pop Lip Colour

&

Primer
The colour rec­om­mend­ed for red­heads is called Rouge Intense, which comes with a base, nude primer. It gives your lips a love­ly, pink­ish-red burst of colour that lasts for hours. Avail­able on Ama­zon.
- Almay Lip Vibe Lipstick with Vitamin E
This prod­uct comes in a vari­ety of colours that all suit red­heads, includ­ing peach, nude, rose, bur­gundy and blush. It con­tains Shea but­ter, which helps keep your lips moist and the lip­stick in place. Avail­able on Ama­zon.
Mascara For Redheads: What's The Best Colour?
If you're get­ting dressed to the hilt for a spe­cial event, make­up pros rec­om­mend black mas­cara for red­heads, because it lends a dra­mat­ic con­trast to your hair and eye shad­ow. But what if you only want to make your pale lash­es stand out a lit­tle more when you're head­ing to work but not make them look like too, too much? Here's the ide­al solution:
- Just For Redheads Mascara
This prod­uct, as its name says, is per­fect for red­heads with pale lash­es who are look­ing to bring focus and atten­tion to their eyes with­out mak­ing them appear too over­done. Although it comes in sev­er­al shades, the ide­al choice for every day is "gin­ger red," which length­ens and fills in lash­es with­out dark­en­ing them or mak­ing them look too dressy. It's also avail­able in gin­ger brown, gin­ger auburn and gin­ger cocoa, Avail­able on Ama­zon.
Know­ing what make­up is appro­pri­ate for dif­fer­ent occa­sions is impor­tant, no mat­ter what hair colour you have. How­ev­er, because red hair is so strik­ing, so unique, it's par­tic­u­lar­ly impor­tant that your gin­ger tress­es work in sync with your eye make­up rather than work­ing at odds with it.
Whether you're spend­ing the day in meet­ings at work or attend­ing an ele­gant soiree, mak­ing up your eyes so they look per­fect with your red hair is cru­cial. The prod­ucts we've men­tioned in this arti­cle are high­ly rec­om­mend­ed for women who are lucky enough to have a stun­ning gin­ger mane. We'd love to hear from you after you try them!
Top

FAVORITE

Everyday Makeup Products for Redheads — Zabrena